5 greens
diet
Greens powder
green juice
vegetable juice
supergreens
barley grass
barleygrass
wheat grass
wheatgrass
5 Greens Powder: Most Common Questions
5 Greens Powder is one of Life Grip's best selling products. The main reason is its convenient, great value for money and only takes 10 seconds make.
This makes it easier for adults to mix up a green juice quickly, so as it fits into the usual morning routine.
Life gets busy and a lot of the time we don't get around to eating enough vegetables every day. We all know we should, but our list of 'must's' get in the way of our 'should's'.

It would come as no surprise that many adults don't eat enough Vegetables, let alone from the green variety. Just so happens that green vegetables are very nutrient-dense and very low in carbohydrates.
So no matter what diet you follow (even keto, gluten free or intermittent fasting) your greens need to be a part of your nutrition planning day to day.

5 Greens Powder FAQ's
What does it taste like?
Due to the whole food ingredients, grown in Australian nutrient and mineral rich soil, 5 Greens has an earthy taste to it. If you can handle eating green vegetables, you can handle drinking 5 Greens.
When should I take it?
You can consume 5 Greens anytime you need a natural, sustainable 'pick me up' or when your too busy to eat a nutritious meal.
Adam Phillips, the founder of Life Grip loves to consume it first thing in the morning in 250ml of cold water.
He says it hydrates and nourishes the body and feels better knowing the first thing that enters his body is highly absorbable vitamins, minerals and antioxidants from real food.

How long does it take to see positive results?
Well if you've ever had a fresh, cold pressed green juice and felt the immediate difference in mental clarity, energy and focus. Well 5 Greens Powder is the next best thing to that.
Each tub has 40 servings for a reason as we believe that consuming it daily for 4 to 5 weeks is where you'll really see the benefits.
What are the benefits I can expect to see and feel?
- Reduced Bloating, leading to a flatter stomach.
- More energy later in the day. Eliminating the dreaded 3pm slump.
- Much more regular toilet visits. Accelerating weight loss.
- Clearer skin, stronger hair and nails.
- Better workout recovery and improved endurance.
- A deeper sleep consistently overtime.

What do you take 5 Greens with?
You have an option to mix 1 scoop (10g) with either water, juice or coconut water. For those that really don't like eating green vegetables, we suggest mixing it with your favourite fruit juice or add it to your smoothie.
Mix 1 scoop with your favourite protein smoothie recipe. Here's Adam's favourite green smoothie recipe below;
Are you ready for the best ever you? Well you can grab your first tub today and begin your 40 day cleanse and never look back.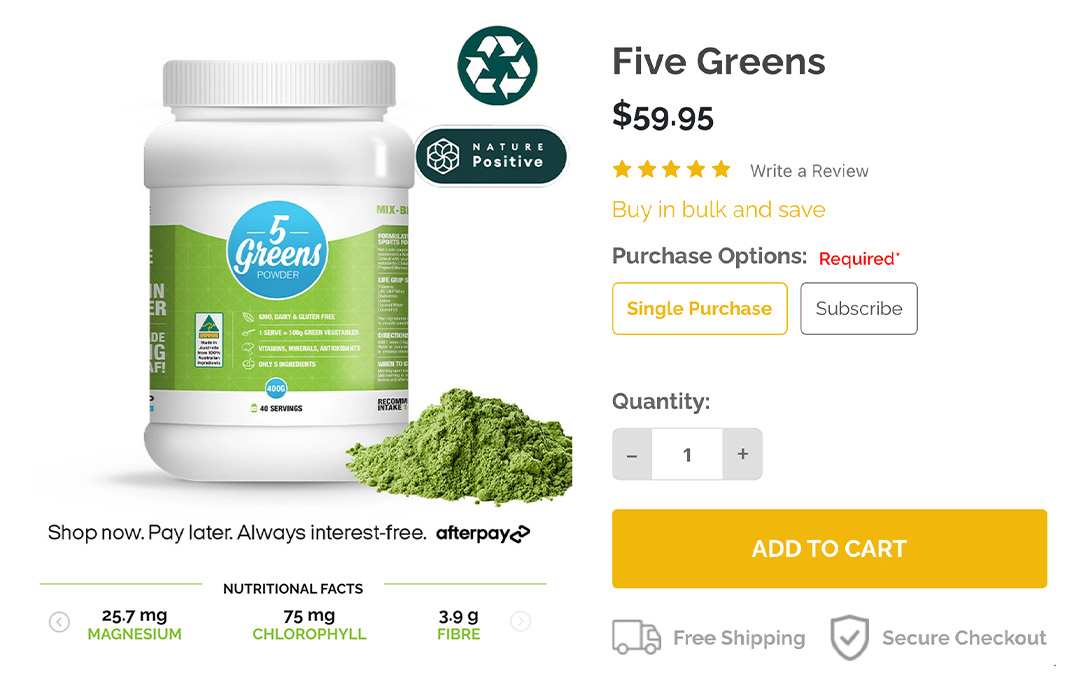 Life Grip is a company that is walking the same path with you.
Living stronger, cleaner lifestyles.
Kind Regards
Adam Phillips
Our focus goes into the products we pro- duce in order to increase your quality of life. While other companies are focused on glamour, fashion and fitness models, we'll still be here creating the cleanest supplements on the market.
A brand built on quality, virtue, convenience and a minimalistic focus to retain mother na- tures perfect formula, for us all to reap the benefits. At Life Grip we Eat, Think & Live Clean.
stay updated & subscribe to our newsletter