Glutathione and How to Produce it Naturally
Produce Glutathione Naturally with Grass-Fed Whey Protein
These days there's lots of talk about what constitutes a "superfood." If we consider a superfood to be one that's nutrient rich and essential for optimal health and well-being, then foods that support the production of glutathione definitely fit the bill.
Glutathione is a Powerful Antioxidant
Antioxidants help neutralise and remove free radicals from the bloodstream. Free radicals can damage cells, speed aging, and contribute to a number of diseases including cancer, Alzheimer's disease, and autoimmune disorders. Glutathione is an intracellular antioxidant that is able to enter every cell in the body and help protect against damaging effects of radiation, environmental toxins, and carcinogens. Glutathione is believed to work by sticking to toxins and free radicals, thereby allowing harmful particles to be excreted from the body.
This process of detoxification is ongoing and occurs naturally. When the balance shifts and the detox process fails to keep up, disease and ageing gain the upper hand. By providing the right kind of nutritional support (and making sure you are also supporting your body's natural ability to heal itself by being active, getting enough sleep, and managing stress levels), you can help tip the scales in the other direction.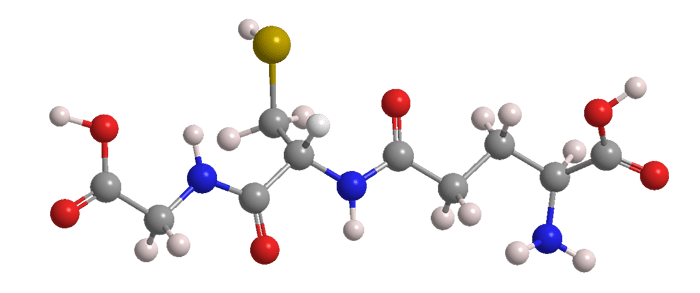 What Else Does Glutathione Do?
Glutathione not only acts as an antioxidant in its own right, it's also needed to allow the body to properly use other antioxidants like vitamin C, carotenoids, and selenium. Glutathione also supports immune system health and the way in which cells use energy. It's vital and easily depleted, so it's critical to make sure you are providing the building blocks needed to produce it.
How is Glutathione Produced?
Three amino acids (l-glutamine, l-cysteine, and l-glycine) all contribute to the production of glutathione. Of these, l-cysteine is the most critical as it's directly correlated with the amount of glutathione made in the body. Though dietary sources like garlic, onions, and sulphur-rich veggies like broccoli are great, sometimes it's hard to make sure you are getting enough each day. A quality protein supplement like Life Grip's Grass Fed Whey Protein can help you even out the supply to ensure your body has what it needs to ensure optimal glutathione levels.
Grass Fed Whey is a Great Source of L-cysteine
The L-cysteine in grass fed whey is just what the body needs to boost the amount of glutathione available to fight the effects of aging and cell degeneration. A high quality protein supplement made from grass fed whey (like Life Grip's Grass Fed Whey Protein) ensures you are getting a clean source of nutrient dense protein to support your body's production of glutathione. Free of GMOs, gluten, and hormones, all you are getting is naturally-produced whey protein from Australian grass-fed cows who are eating exactly what nature intended.
Want to optimise Glutathione even more? Well do your research on Sulforaphane
There's is many studies which show the amazing benefits of eating your Green Vegetables and your Green Leafy Vegetables. Too many to name, but one component that is beginning to standout of Sulforaphane. Consuming Green Leafy Vegetable within your clean whole food diet needs to be a priority. it doesn't matter which diet you follow, you cannot bypass eating your greens.
It has been shown that Broccoli Sprouts have a massive amount of this component. You will still gain huge benefits from eating your greens, but studies show that broccoli sprouts seem to have the largest amount (at least by the most recent research anyways).
So I suggest researching more into Sulforaphane for your own benefits and it will knock those Green Leafy Vegetables higher up your to do list!
Now if you're finding it difficult to get your daily intake of Greens, why not try 5 Greens. Do you think you could add 1 scoop a day to get your 100g of Green Leafy Vegetables?
For more information about the benefits of grass fed whey protein, come visit us online at Life Grip.
You want your supplements and vitamins to be in their most natural state possible just as nature intended.
3 things to look for when choosing a supplements or vitamin product:
Ingredients List: you want minimal ingredients (only the ones you need, without fillers) and nothing artificial.
You want to know where the ingredients come from, this is very important.
Calculate the cost per serve: total cost / container servings = cost per serve. This is the true cost of any vitamin or supplement.
Don't be fooled by flashy diagrams, infographics and fitness models. Have a look at the container and nutrition table. Is this the best value and quality combined?
If you're not sure where to start, please feel free to schedule a free 30 min wellbeing consultation by clicking this link here. No strings attached :) I will help you make the change to improve your quality of life.
Schedule your call at a time that suits you here.
Eat Clean, Think Clean and Live Clean, your body changes, your mind thinks better, you handle stress and challenges better and are more driven and motivated as your energy levels have increased along with your mental clarity. You now begin to look at other areas of your life and how you can enhance them.
Share your experience with changes in your diet, I would love to hear!
Don't Forget to share!
Eat, Think & Live Clean.
Kind Regards
Adam Phillips – Founder of Life Grip
Need help?
Our focus goes into the products we pro- duce in order to increase your quality of life. While other companies are focused on glamour, fashion and fitness models, we'll still be here creating the cleanest supplements on the market.
A brand built on quality, virtue, convenience and a minimalistic focus to retain mother na- tures perfect formula, for us all to reap the benefits. At Life Grip we Eat, Think & Live Clean.
stay updated & subscribe to our newsletter